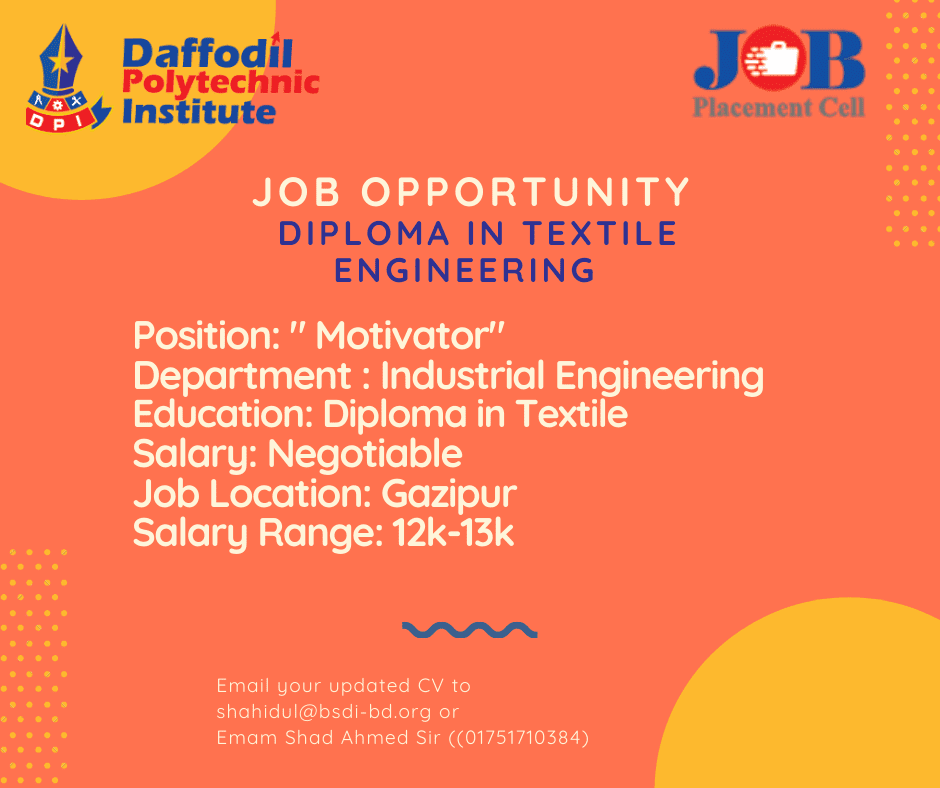 ড্যাফোডিল পলিটেকনিক ইন্সটিটিউটের আগ্রহী টেক্সটাইল অ্যালামনাইদের জন্য চাকুরীর খবর।
Motivator, Industrial Engineering, Department এ টেক্সটাইল ইঞ্জিনিয়ার প্রয়োজন, আর দেরি না করে আজি আবেদন কর।
No of Vacancy: 4
Job Type: Full-time
Gender: Male
Educational Requirement: Diploma in Textile Engineering
Experience: Fresher
Designation: Motivator
Department: Industrial Engineering
Job Location: Gazipur
Salary Range: 12k-13k
Job Description:
1. Responsible for 1 sewing line
2. Motivate all works and production Staff to achieve Process wise hourly target
3. Monitoring Process wise hourly production
4. Ensure Process wise hourly target achievement
5. Motivate works to reduce migration and absenteeism
6. Any work assigned by the management
Recruitment process:
1. Written test
2. Verbal test
NB:
1. Only Diploma in Textile Engineering is allowed for the job. Any other degrees are not allowed.
2. People interested to build their careers in Industrial Engineering are requested to apply.
3. Employees have to stay near the factory.
*** Interested persons are requested to contact with Emam Shad AhmedInstructor, Department of TextileDaffodil Polytechnic Institute(01751710384) textile2@bsdi-bd.org ***or CV to Email: [email protected]